Attn: 1/8 scale OVAL RACERS
It has been said... If you want a Advantage over the rest of the field in low traction or just need more traction you want a

Foam Tire like the BSR
Orange
c8023, *
Green
c8024
,
or
Red
c8027
Compounds
These tires are typically softer than the other foam tires, and create the grip racers look for on tracks with low traction or Damp conditions.
Compound Selection:
Foam tires do not have air in them; therefore you cannot adjust performance of the tire with air pressure. Instead,
It has been said that many of the better
drivers aka
"FAST GUYS"
use softer compound tires on different corners to achieve different amounts of traction.
A common setup is to run 3 soft tires and a harder right front tire that is one step harder. This often results in a more balanced feel, and smoother steering response...
*Sometimes, on
abrasive tracks
, racers
May opt for soft left sides, and harder on right sides to balance out tire wear.
In the chart below the tires highlighted in
purple
are made of a different type of rubber than the tires in
green
.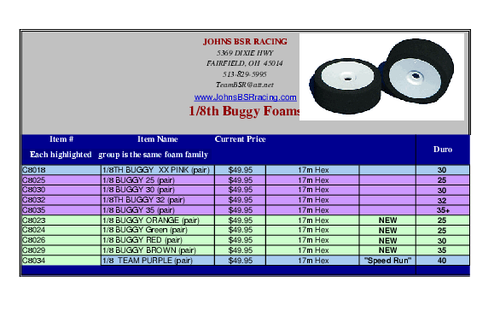 This is a pair of 1/8 scale 25 Shore Dirt Oval Buggy Tires
from John's BSR Racing.
Foam tires
25 shore (firmness) rating
Black compound
White nylon constructed front wheels
1/8 scale 25 Shore Dirt Oval Buggy Tires
Installation on the vehicle
Outer Diameter: 103.5mm (4.07")
Width: 42.5mm (1.67")
Hex: 17mm